UPDATE
–
8/13/23
Donation made! We were able to donate $1443.00 to the Trevor Project, because of pins and tees sold!
Thank you all very much for your help! Please continue to support TRANS RIGHTS!
——-
——————————-
Cybertronic Spree Trans-Rights Pins SHIPPED! Now- T-SHIRTS!
Hello Nakatomi Peoples!
The TRANS RIGHTS Cybertronic Spree Logo pins have arrived, and all orders have shipped! Look for your pin in the mail soon (plus a special discount code for returning customers in the package!)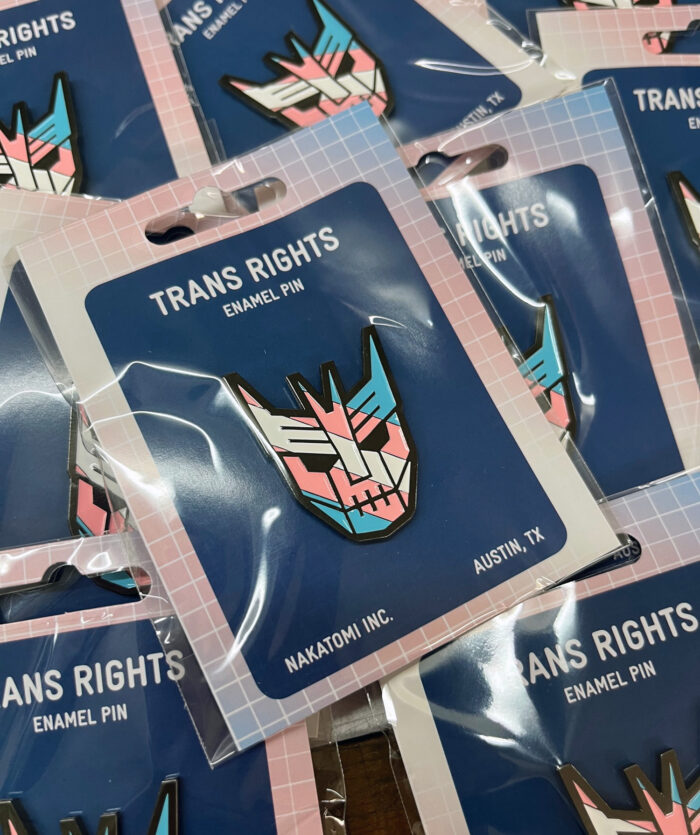 You can pick up the PINS in our Cybertronic Spree store page HERE. Pins are now in hand and ready for immediate shipment. Nakatomi is donating $6 of each pin sold through now to the end of July to the Trevor Project an LGBTQ+ youth suicide prevention organization. It's a cause near and dear to our hearts here at Nakatomi, as well as to the band!
Cybertronic Spree Trans-Rights TEES!
Due to popular demand, we're also putting the logo as a t-shirt!
The Trans-Rights tee is available in unisex or women's cut tee. This shirt is a pre-order, and will ship in late May. Note- some sizes are pre-order ONLY. Tees are $25 each. Pick one up HERE.
Profits from each shirt sold from now through the end of July will also be donated directly to The Trevor Project!
Make sure you check out The Cybertronic Spree, a group of 'bots who have been touring and performing around the world for years now, bringing good rock to the masses!
NOTE-We will update this post when we make our donation to the Trevor Project! Spread the word, and remember- Protect Trans Youth! (and Trans adults, while you're at it!)
Thank you all so much!
-alex fugazi