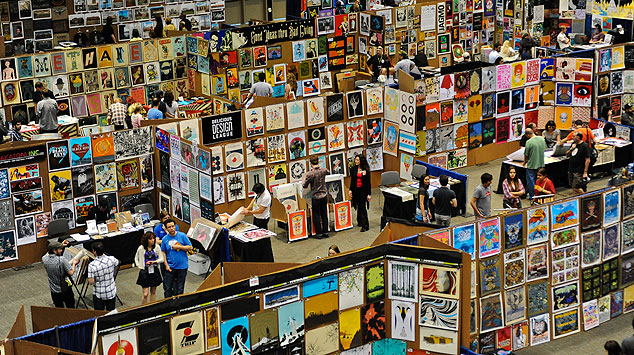 Austin Flatstock SXSW 2023 approaches! Paul Pope signing on Friday!
NEXT WEEK- WEDNESDAY to FRIDAY 3/15-3/17, Nakatomi will be at the annual Flatstock poster exhibition at SXSW!
We'll have a TON of prints new and old there! Artist Tim Doyle and the Nakatomi print crew will be there in attendance all 3 days!
ALSO- Nakatomi will be debuting a new print, "Twins" by comic-artist extraordinaire, Paul Pope!
Paul will be at the Nakatomi booth on Friday from 2-4pm for a signing! Come by the booth, grab a print, and if you've got any comics you want signed, bring them on by as well!
Regular edition prints will retail for $50, variant edition $75, and one-of-a-kind test prints will be $100 each. The test prints from his last release sold out at NYCC- don't sleep on these!
Prints will be available starting on Wednesday, the signing is on Friday.
Show runs from 10-5pm, Wednesday through Friday!
As always, FLATSTOCK is held at the Austin Convention Center off of 4th street, and is FREE TO ATTEND! YES- FREE AND NO BADGE REQUIRED, JUST FREAKING COME ALREADY!
Read more HERE.
See you there!
-alex fugazi