A Salty Salute!
Hello Nakatomi Peoples!
For the last couple months, we've been assisting one of our all-time favorite bands, Guided By Voices, with their tour poster series, and starting next March, we'll be taking on all the dates for the remainder of their tour! 5 are currently available on the site, with more being added after the shows! Available HERE in the Guided by Voices section of the Nakatomi store!
Above is the Cleveland print by artist Sean Starwars– check out his Instagram @SeanStarWars. Adapted from a lino-cut block by the artist, Sean's work has a textural quality not normally seen in screenprinting. We only have 10 copies of this for sale!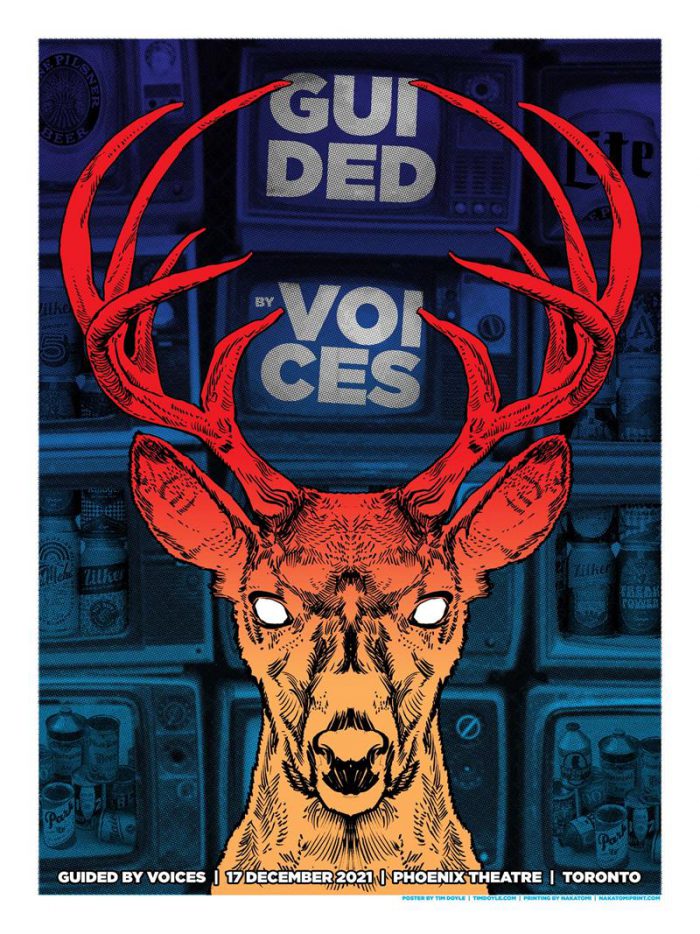 Above is the Toronto show poster by artist Tim Doyle- note, this show was cancelled, so it's now a PHANTOM POSTER, made for a show that doesn't exist! Since these are printed well in advance of the show, if a gig gets canned, the prints still exist! Signed and numbered by the artist, you can pick this up and pretend you're from another dimension, where the show actually happened!!! Available HERE.
Above is the Pittsburgh print by artist and Gigposter legend, Strawberry Luna! It's great to see Allison's work finally on Nakatomi! Check out Strawberry Luna's Instagram @StrawberryLuna. Nakatomi only has 10 copies of this print for sale HERE.
This is an atypical design from artist Tim Doyle, smashing up a collage of art, photos, and comics in the grand Guided By Voices tradition! Available HERE!
And last but not least is the Lancaster, PA print by Skillet Gillmore! Check out his Instagram- @SkilletGilmore.
Nakatomi only has 10 copies of this print for sale, HERE.
These limited edition, hand-printed silkscreen posters are in hand and ready for immediate shipment! Only 75 of each print were made for the band and venue, and Nakatomi has a very limited amount of Artist Proofs for sale. Prints are $40 each.
Thank you everyone, and have a fun and safe holiday season!
-alex fugazi