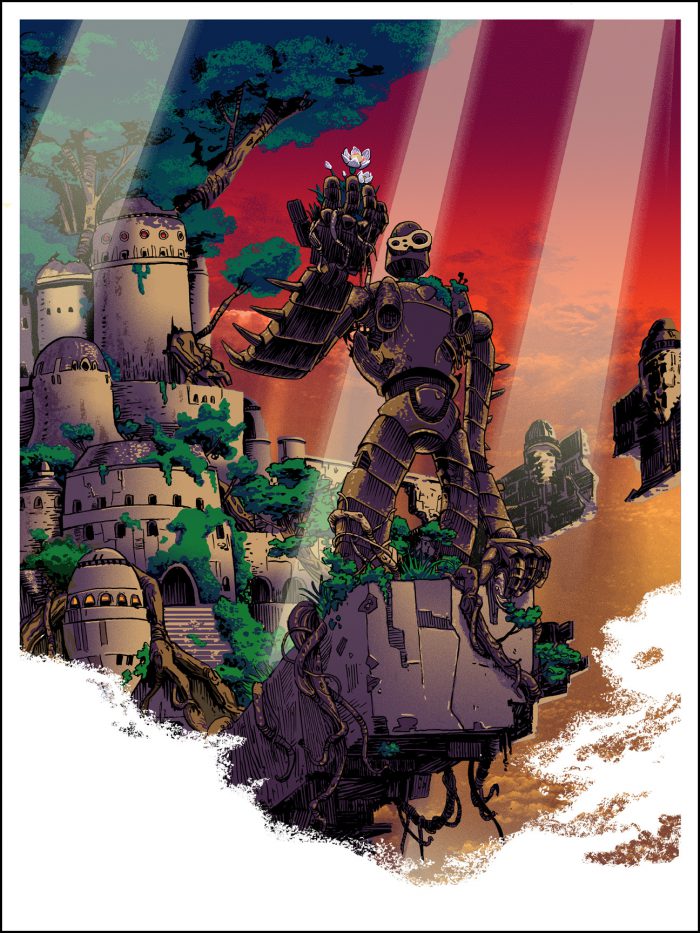 2 New Doyle prints on NAKATOMI!
Hello Nakatomi Peoples!
Available for the first time on Nakatomi, artist Tim Doyle presents his two most recent releases from Spoke Art!–
Pictured at top, his Castle in the Sky inspired print, "Robot in Repose" for the recent "Miyazaki in NYC" art exhibition. This print measures 18×24 and is hand signed and numbered by Doyle in a first edition of just 150 copies worldwide. Available HERE.
This print is in hand and ready for immediate shipment! Pick it up HERE in the Nakatomi Store, and check out the other Miyazaki related prints at the bottom of the page- Complete your set! $40.
It seems everyone in the world is playing Animal Crossing, and artist Tim Doyle is no exception. Originally released through Spoke Art, here's your last chance to pick up the regular and glow-in-the-dark first editions of his print "Let's Talk Infrastructure" available HERE.
Take a look at the print while it's glowing in the dark (mock-up below). This one is PACKED with glow ink, silhouetting Tom as he tries to plan a way to bilk us of all our hard-earned Bells.

"Let's Talk Infrastructure" measures 16×20 and is signed and numbered by the artist in a limited first editions of 150 (regular $40) and 75 (glow $60) with far less than that actually available on site. Pick one up HERE now! Print is in hand and ready for immediate shipment.
Thank you all!
-alex fugazi